How Often Should You Wash Your Dog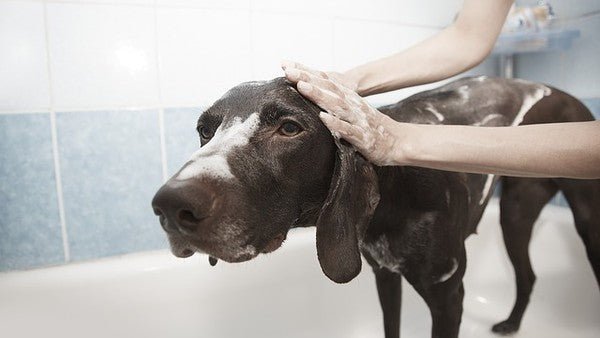 How Often Should You Wash Your Dog?
Are You Wondering...How Often Should I Bathe My Dog?
Do you have any idea how often you should give your dog a bath? It's ok if you don't know because it's quick and easy to learn the basics.
Giving your dog regular baths is good for his or her health. But what many people don't realize is it's also good for your health!
What factors determine how often to give your dog a bath?
You can give your dog a bath as often as you'd like for the most part. There are reports that over bathing can strip a dog's coat of essential oils but vets say that is nothing more than a myth.
Health conditions:
Dogs with skin conditions, bacterial, fungal or yeast infections should be bathed often.
Veterinarian
Shawn Messonnier
says that bathing dogs with these conditions more often makes it possible to give them less harmful medication to treat the condition.
If you give your dog medications to treat a skin condition ask your vet about the benefits of bathing more often. Prescription medications can be harmful to dogs so anything you can do to use less of them will be best for your dog.
Lifestyle:
It makes sense that a short-haired dog that stays indoors most of the time won't need to be washed as often. Long-haired dogs that get dirty playing or hunting will need more baths than house dogs.
A rule of thumb is that if your dog is smelly and not much fun to be around, it's bath time. If you suffer from pet dander allergies then keeping your dog clean and fresh will benefit your household as well.
Tips for Bathing Your Dog:
When it is time to give your dog a bath you'll have an easier time if you start the bath being already prepared.
This means having some items on hand that will make the experience better for both you and your dog.
Shampoo:
You'll want to get a gentle shampoo. If you can get one that is hypo-allergenic and doesn't sting the eyes this is your best bet. If you can find one that is all-natural this is the best option.
Choosing a "natural" shampoo can be hard to do though. The laws that govern dog shampoos are not too strict, so it's possible to buy an "all natural" shampoo that has chemicals in it.
If you can find a "certified organic" shampoo that is a good first step and should be safe. When in doubt, pretend like the shampoo is your food and look for labels with the least amount of ingredients possible.
Cotton Balls:
Cotton balls are great for cleaning out dog ears or keeping water out.
Distraction / Lick pad:
If you have a dog that doesn't love taking a bath then you will love a
slow feeder pad
.
These pads suction right to the side of your shower or bath. All you do is smear a soft treat (like peanut butter) on them and your dog will be so busy licking the treat off they won't notice the bath.
Grooming Brush / Mitt:
If you wash your dog's tangled fur that's not going to help much. For best results you'll want to give him or her a good brushing too.
The extra attention to detail here will help remove any "chunks" of dirt or whatever else your dog gets into so the bath can do its job better.
Water temperature:
You may like a hot bath, but your dog may not. Always start with luke warm water and adjust up or down as needed.
Keep in mind that hot water will burn your dog's skin and cold water will make them miserable and hate bath time.
Clean bottom to top, rinse head to tail:
Start lathering the shampoo per the directions on the bottle. Make a lather starting at the feet and work your way up to the face.
Doing the face last will help stop suds from getting in the eyes. When your pup is all lathered, rinse off the head first and work your way down to get all the suds out.
Dry off fast:
You can blow dry or towel dry your dog after a bath. If you use a blow dryer make sure you are using it in a safe manner (not near water or on too high/hot of a setting).
If you use a towel you'll love something like a microfiber cloth for drying off. Microfiber cloth towels absorb 10X or more water than a normal towel and have handles to put your hands in.