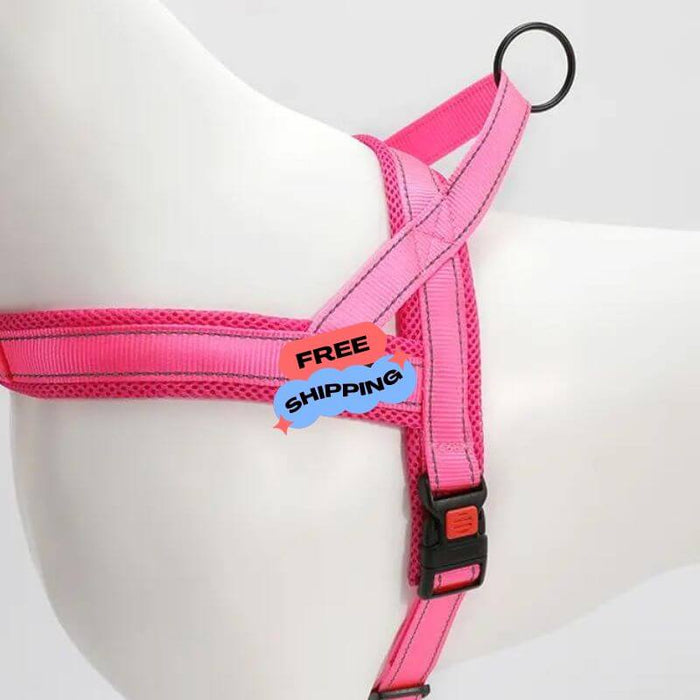 Fast Fit Dachshund Harness - Best Doxie Harness Online 2023
Fast Fit Dachshund Harness - Best Doxie Harness Online 2023
Looking for a dachshund harness? The best harness for dachshunds is one that is easy to put on and holds your little best friend snug and secure.



Our mini dachshund dog harness is not just for small dachshunds. It works great for a standard sized dachshund as well as other breeds of small to medium dog.



There are a lot of types of dog harnesses for dachshunds available but only our quick fitting style is the best harness for dachshunds and other small breed dogs.



To get the best fit for your dachshund or any dog use the harness sizing guide below. Most dachshunds and other small breeds use an x small or xx small dog harness.


Most dachshunds and small breeds do not wear anything larger than a small harness, but a standard dachshund weighing around 30lbs may require a medium sized harness.

Should a Dachshund Wear a Harness?
For most dachshunds, a dog harness is the most comfortable fit for her compared to a collar. If your dachshund pulls a lot this can lead to her making choking sounds and possibly hurting her throat.


A dog harness on the other hand will evenly distribute the weight of the doxie along the shoulders and chest area instead of the neck.
Each doxie is different, so it's not as simple as saying that dachshunds should wear a harness, but most doxies will benefit from wearing a harness vs wearing a collar.


Are Harnesses Better Than Collars for Dachshunds?

In most cases a harness is better than a collar for dachshunds if they pull on leash or if she has back issues or spinal issues.


If your dachshund does not pull while on leash and is well trained then a collar may work great for you.
Each dog is different from the next, so the best way to find out if a harness or collar is "better" for your dog is to try both out and see which will work best.

How to Put a Harness on a Dachshund



Putting a harness on a dachshund can be easy or hard. It depends on the mood of your dachshund. If your dachshund hates wearing a harness then putting one on isn't going to be easy.


If your dachshund loves going on walks and has an easy-going personality then putting a harness on should be pretty easy for you. Also keep in mind that all harnesses fit different, and some are pretty hard to put on.


The reason that doxies all over the country love wearing our quick fitting harness is because it is very easy to put on.

Here's How To Put A Harness On Step By Step

Our quick fitting harness goes on in about 8 seconds. It's one of the easiest dog harnesses you will ever use, and the only harness that goes on in 8 seconds or less you'll find.
1) The harness does need to go over your little buddy's head, but it's not a tight fit. Start by putting the loop over the head



2) Next, take the part of the harness with the buckles and wrap it around the widest part of the chest.



3) Buckle the other side using the clip



That's it! It really only takes a few seconds to put the harness on and you can be out the door going for a walk.

How Should a Harness Fit on a Dachshund?
Your dachshund harness should fit snug but not too tight. The harness should keep your doxie safe and secure without being uncomfortable.



If the fit is too tight your dog isn't going to want to wear it or go on walks. The idea is to make your walks more enjoyable, not turn them into a nightmare for you and your little buddy.



If you follow our sizing guide and measuring info below you should end up with a harness that fits your doxie perfectly.

How to Get Your Dachshund to Wear a Harness?


What if your doxie doesn't like wearing a harness? Some dogs just don't like wearing dog harnesses or are scared of them.



If your dog is acting like that harness isn't going to work, you can try to introduce it slow. If she can handle being near the harness just put it down next to her for a bit.
Then if all is going well you can try to slowly put it on, a little bit at a time. If she acts like it's not gonna happen don't try to force the issue, but keep trying when possible.



Sooner or later you should be able to get the harness on without too much trouble.
How to Measure for a Dachshund Harness
Measuring your doxie for a quick fitting harness is very easy. The most important part is to make sure you measure carefully to get the perfect fit.


The straps of our dog harnesses do not go through the legs, so the only measurement you need to worry about is the chest girth. So if you measure around the widest part of the chest you will get the best fit possible.


After you've measured the chest the only step left to do is check the sizing chart below to make sure you pick the right size. If you realize your dog is in between 2 sizes it's best to pick the smaller one.

Keep in mind that if you have incorrect measurements the harness won't fit the way it should and your dog may not want to wear it.
The harness is adjustable so there is a good chance it will fit just fine even if you don't take perfect measurements, but it's best to measure carefully for the best fit if you can.

Watch This Video to Learn How To Measure Your Doxie for a Harness 
 






After you measure your dog using the instructions on the video above use this chart to find the perfect size harness for your dog.

Frequently Asked Questions About Our Dachshund Harness:
Q: Can a dachshund wear a harness all the time?


A: Most dog harnesses are not designed to be worn 24/7. Dogs can get the straps wrapped around their neck if left with it on overnight.



If your dog is wearing a harness 24/7 and gets bored she might chew on it too. For best results we recommend to put the harness on for walking and take it off right after.
Q: What size harness for a dachshund?


A: The size harness your dachshund will need will depend on their chest (girth) measurement. For sizing instructions see the section below on how to measure your dachshund for a harness.



Most miniature dachshunds that wear our harness wear an XXS, XS or small size harness. Standard dachshunds can wear a medium size depending on the chest measurement.



Q: Which harness is best for dachshunds?


A: The best harness for a dachshund is one that will fit them snug and secure without putting any strain on their back. There are many styles of dachshund harnesses to choose from, so the best one for your weiner dog will be a matter of personal taste and your dog's shape and size



Q: I need a no pull dog harness for dachshunds. Is this harness "no pull"?


A: If your dachshund pulls on leash then most likely this is a training issue and not a harness issue. The best way to get your dachshund to stop pulling while walking with a harness and leash is to work with them to not pull you.



Most harnesses that advertise "no pull" will not stop a pulling dog from pulling on the leash without doing some basic training.



Q: What is the best car harness for dachshunds?
A: If you plan on taking your dachshund in the car using a harness you want one that is secure. For riding in the car we recommend this Y-shaped harness (pictured below) for best results.



Our Y-shape dachshund harness will hold your dachshund securely for the car ride.



Q: Do dachshunds need a special harness?
A: There are many types of dog harnesses available. Some will work great for dachshunds and some won't.



The best type of harness for a dachshund is one that will fit great and will not irritate them. Dachshunds are prone to having back problems so making sure the back is supported, or not under any extra stress is a good start when shopping for a good harness.



Q: Is a collar or a harness better for a dachshund?
A: A harness is usually the better choice for walking with your dachshund. Collars can work in many cases but this will depend on your dog specifically.



A dachshund that does not pull on leash should not have any issues wearing a collar for walks. A dachshund that pulls on the leash may benefit more from a harness.



Q: Do you have a dachshund harness and lead set?
A: Yes we do! You can add a matching leash to any of our harnesses and receive a discount when buying them both at the same time.



All of our harnesses and leashes can be color matched for the perfect walking outfit for your dog.



Q: Is your dachshund harness escape proof?
A: The short answer is no. For many dogs, there is not any such thing as an "escape proof harness" unfortunately. Dogs are fast and resourceful.



A dog that wants to escape from any harness will usually not have any trouble getting out of one. The best way to ensure your dachshund doesn't try to escape from his or her harness is to make sure it fits properly and also that he likes wearing it.



A dog won't have any reason to try and escape from a comfortable dog harness that fits properly.



Q: Will it work as a mini dachshund harness?
A: Yes! Our harness works for miniature doxies, standard dachshunds and many other breeds of small dog like chihuahua, beagle and many more.



Q: Do you have any dachshund harness videos?
A: Yes we do. You can see some video of our dachshunds wearing their harness and walking with it below



Q: Is your dachshund harness puppy friendly?
A: Yes, our harness works great on dachshund puppies, youngsters and adults. As long as you measure your dog correctly and get a good fit for them it doesn't matter what your dog's age is.



Q: Do you have an XXS dachshund harness?
A: Our harness comes in the following sizes to fit most any dachshund or any other breed of dog. XXS, XS, small and medium.



Most dachshunds do not need a harness larger than a small with the exception fo a standard dachshund that may wear a medium in some cases.



Q: Is this dachshund harness mesh lined or some other material?
A: The inner part of the harness that rests up against your dog's skin is a poly knit mesh material. This allows for breathing and cooling. The material is very light, which is why most dachshunds love wearing it on walks.



Our harness also has a reflective tape type material or reflective stitch that makes dogs a lot more visible when walking at night.



Q: What size harness for a standard dachshund?
A: If your dog is a standard dachshund check our sizing chart to find the best fit. For reference, we have a 30lb standard doxie that wears a medium size. You likely should not need anything larger than a medium harness for a standard doxie.



Q: Do I have to put my dog's front legs through the harness?
A: No, this harness does not need to be "stepped in" like many other types of dog harness. It is easy and fast to put on your dog and your dog won't have to do any stepping in.



Q: Is the D-ring on your harness plastic? It looks plastic.

A: No, the D ring on our harness is not plastic. It is a metal alloy that has been painted black, so to some folks it has a plastic look to it, but we assure you it's durable metal and not plastic.