Dachshund Wall Art: Celebrating Our Adorable Wiener Dogs in Style!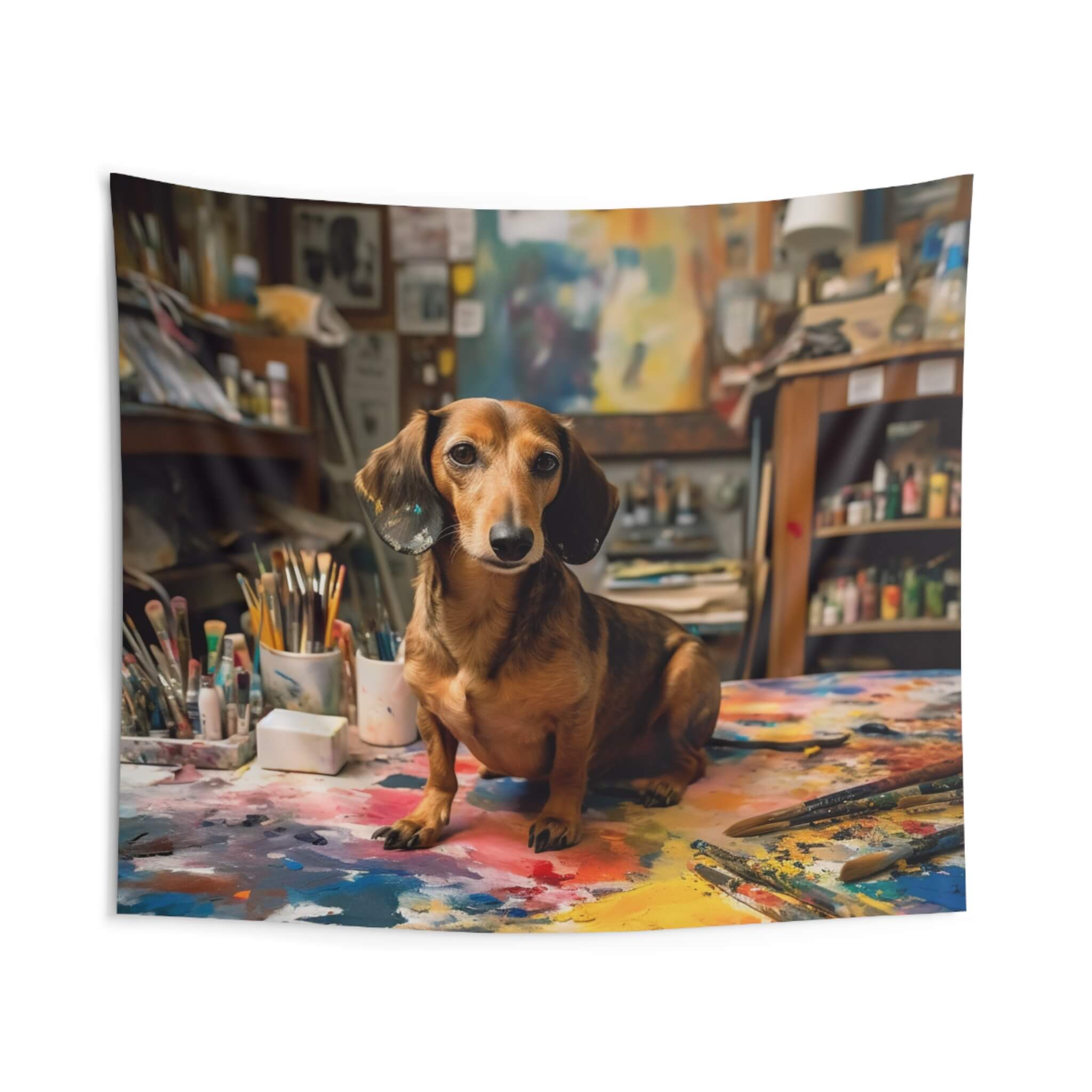 Imagine transforming your boring old walls into a vibrant gallery dedicated to our favorite long-bodied, short-legged companions. 

Dachshund wall decor is all about expressing your love for these fun and silly pups through artistic expressions that will make your heart melt and will delight visitors to your home.

If you're a die-hard dachshund lover like us, or if you're someone who appreciates the irresistible charm of wiener dogs, let's explore the fun and exciting world of dachshund wall art.


Unleashing the Charm: Exploring the World of Dachshund Wall Art
What exactly is dachshund wall art? 
It's exactly what it sounds like. 
Think of dachshund print posters, wall clocks, poster prints, wall decals, wooden signs, wall tapestries. Anything that you can hang on your walls that features images of dachshunds is dachshund wall art.

It doesn't need to be expensive modern art by famous artists either. Dachshund wall art can be inexpensive, simple and fun. It's a very simple way to show your appreciation and love for your favorite four legged long dogs.

There's a ton of different types of dachshund wall art that you can find available today. 
Some of the most popular art related items with dachshund images on them are:
Dachshund wall clocks
Canvas gallery wraps
Posters
Pennants
Acrylic prints
Wall calendars
3 panel acrylic prints (Triptych)
Wall decals

That's just a short list. There are really endless amounts of dachshund themed wall art products you can buy to decorate your walls with.

You are only limited by your imagination and sense of style.

 
How to choose the perfect dachshund wall art for your space
Let's dig into the important task of choosing the pawfect dachshund wall art for your space. After all, we want those adorable long-bodied rascals to shine on our walls like the stars they are!

Think about your space and style:
First, take a second to consider the overall vibe of your space. Is it modern and sleek, or cozy and eclectic? 

Understanding your existing decor style will help you pick dachshund wall art that complements and enhances the overall look of your home. 

If you're all about bold colors and funky patterns, go for vibrant and whimsical dachshund art. For a more minimalist space, you may prefer sleek and minimalistic designs that capture the essence of dachshunds without being too fancy.

Size Matters (Yes, Even for Wall Art!):
You'll want to think about the size of the wall art you want to decorate your space with. 

Do you want a small and charming piece to add a subtle dachshund touch, or are you ready to go big and make a statement?
 
Consider the available wall space and the impact you want the artwork to have. A larger piece can become a captivating focal point, while smaller ones can be scattered throughout the room to create a playful dachshund-themed gallery.

Show off Your Personal Taste:
When it comes to dachshund wall art, there's no right or wrong choice you can make. It's all about your personal taste and what makes you feel good inside. 

Do you like realistic portraits that capture every little detail of your beloved wiener dog's face? Or do you like fun and humorous illustrations that showcase the playful side of dachshunds? 

Your best bet is to choose art that speaks to your heart and brings a smile to your face every time you look at it.

This is your space, and it should make you happy every time you are in it!

Try Customized & Personal:
Want to add a unique touch to your dachshund wall art? Consider personalized wall art options! 

It's pretty easy to find personalized dachshund art where you can have your own little buddy's picture turned into a super fun piece of wall decor. 
It's like having a one-of-a-kind masterpiece that celebrates your own adorable dachshund companion.

The most important thing is to not overthink it. At the end of the day it's your home and your decor. 
You don't have to follow the rules of society when it comes to wall art. Whatever makes you feel good is the perfect piece.


Fetching Inspiration: Creative Ways to Display Your Dachshund Wall Art
After you've figured out what type of dachshund art you want to put on your wall…where are you going to put it?

To get the best effect with your dachshund themed art you can use the following ideas as a guideline for displaying your doxie art.
Find the Perfect Spot:
First things first, pick the best location for your dachshund art to take center stage. 

Do you have a wall in your living room that's boring and needs some spice? Maybe a hallway wall that is bare and sad?

Or maybe your bedroom where you can wake up to the adorable faces of your favorite wiener dogs in the morning.
 
Do you want to enjoy it by yourself, or do you want your guests to be able to see it clearly and enjoy it too? All of these questions need to be answered before you hang up your piece to make sure you pick the best spot in the house.

Lighting is Key:
To make your dachshund art shine, the perfect lighting is something to think about. 
Whether it's natural light coming through a nearby window or an existing light fixture, make sure your little buddies are well-lit so their adorable features will be highlighted. 


A Tail-Wagging Gift: Dachshund Wall Art for Fellow Wiener Dog Fans
You might not want to decorate your walls with dachshunds. You could just be in the market for a dachshund themed art gift for a friend or family member.

If that's the case, we've got you covered.

Whether it's for a fellow dachshund lover's birthday, a housewarming party, or just to spread some doxie cheer, choosing dachshund wall art as a present involves a bit more than buying a random piece.

Here are some simple ideas to think about when buying dachshund themed wall art for a friend or loved one:


Know Their Style:
Before just picking out any dachshund themed art piece, take a minute and think about what kind of person you are buying for. What is their personal style? 
How do they express themselves now?

Do they like modern art, minimalist designs, funky or something else? 
Whatever their personal style and tastes are there's sure to be something dachshund related you can find that will compliment their style.

This little bit of extra work on your part will pay off a ton when you give them the perfect piece to compliment their existing style and decor.

Capture Their Dachshund Love:
What makes your friend or loved one go wild about dachshunds? 

Do they love the playful side of wiener dogs or are they drawn to the expressive eyes and floppy ears?

Think about their tastes and likes and look for dachshund wall art that captures the essence of what they love most about them. 

Think about the Space:
Where is the art going to be displayed in the home? 
Will it go in the living room? 
Office? 
Bedroom?
Think about the size and layout of the space to make sure the artwork will fit perfectly. 

If they have a smaller wall, opt for a smaller or medium-sized piece that won't overwhelm the space. 
On the other hand, if they have a huge wall begging for attention, go for a larger statement piece that will instantly become the focal point.


Personalization Adds a Touch of Love:
Want to make the dachshund wall art gift even more special, you can think about personalization. 
Many dachshund art can be personalized with the name and/or photo of your friend's dachshund. 

A thoughtful gesture like this shows that you went the extra mile to create a unique and meaningful gift that celebrates their personal connection with their little fur buddy.


Whether you are shopping for dachshund wall art for your own home or for a loved one, there are endless choices to make. 
Dachshund wall decor items come in a ton of different sizes, shapes, colors and styles to pick from.

There really is something for every type of taste and space. No matter what you pick, the odds are it's going to look great and fill the home with happiness. 

Dachshunds light up our lives in more ways than one. 
So why not light up a room or a wall with some dachshund themed art that will express your personality and fondness for these short legged friends of ours.