Geometric Dachshund Wall Decor: Woof-tastic Charm for Your Space!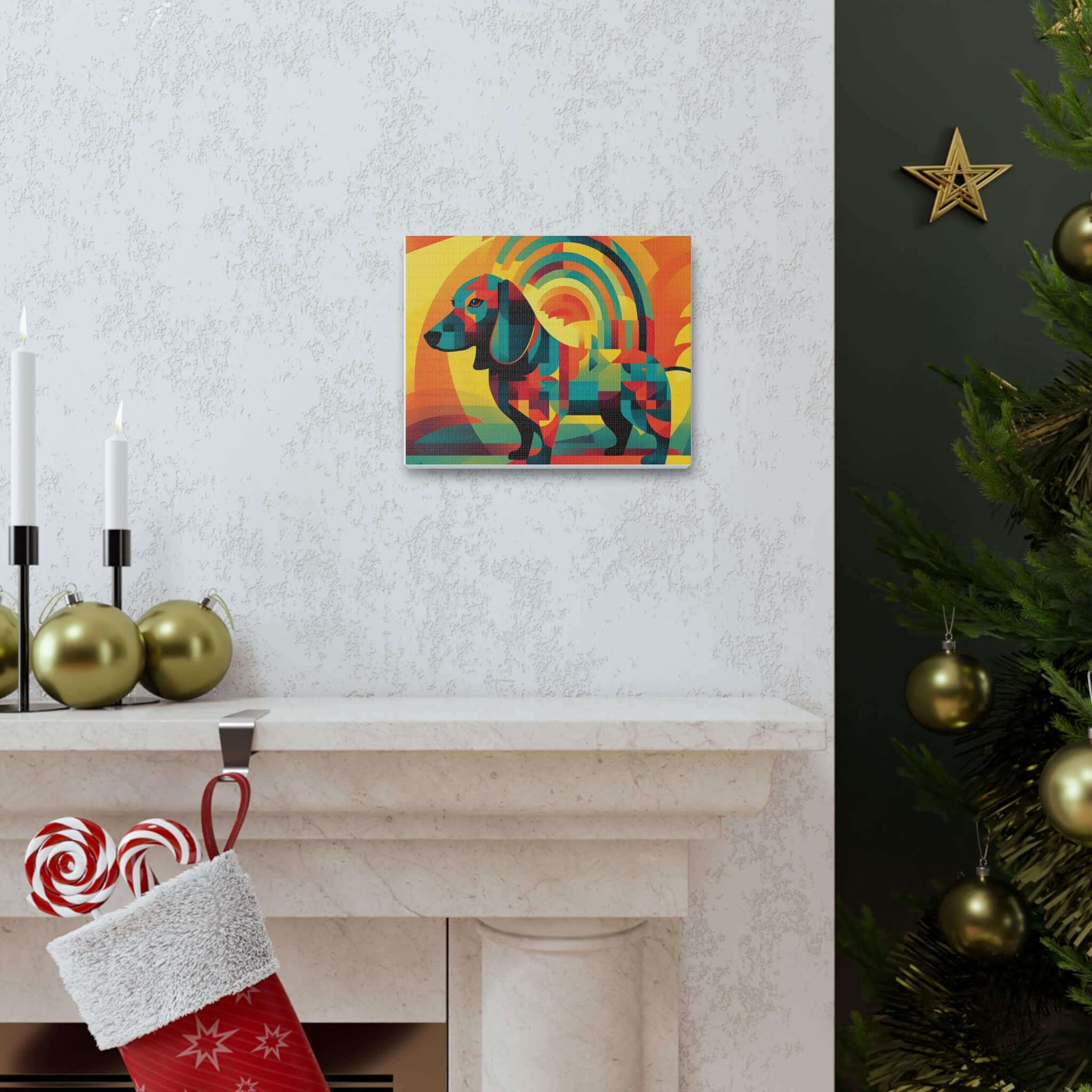 Geometric wall decor is nothing new. People have been using geometric design to decorate their spaces dating back to ancient civilizations.

Geometric wall decorations are so popular with people because they are versatile. 
Geometric shapes are visually appealing to many and the minimalist design is easy to pair with existing home decor.

But we are talking specifically about geometric dachshund wall decor. This type of wall decor is for lovers of these short legged cuddlers known as weiner dogs.

If you've been thinking about adding some dachshund geometric designs to your existing decorations keep reading on.


What Makes Geometric Dachshund Wall Decor So Fetching?
For many dachshund lovers, the fun blend of geometric shapes and adorable dachshund silhouettes just go well together. 
The geometric shapes give the dachshund themed art a modern clean look that doesn't overpower the other wall decor.

The contrast between the geometric lines and shapes and the organic rounded curves of a dachshund silhouette creates an eye-catching visual effect that will have your guests curious and delighted.

This type of art is perfect if you are a dachshund lover that wants to showcase your admiration for these short-legged little fur friends without displaying more cutesy type designs.


Finding the Perfect Spot: Where Should You Hang Your Dachshund Masterpiece?
Where you put up your geometric dachshund art is up to you. There is no right or wrong place to put something that is supposed to make you happy.

If you're like us though, you might not have any idea where to hang a piece of dachshund themed geometric art.

Here are some ideas for places in your home where you could display your geometric wiener dog pieces:
Living Room: 
The most obvious place to hang your geometric art is the living room. 
A good choice is to hang the geometric dachshund wall art above the sofa or fireplace to create a focal point in the room. 
This puts the piece front and center and will serve as a great conversation starter with your guests.

Bedroom: 
If you want to have an art piece in your bedroom that instantly puts you at ease, consider hanging it above the bed or on an empty wall in the bedroom. 
It will showcase your personality and give you a sense of whimsy and fun in your most used living space.

Home Office: 
If you need a dose of fun in an otherwise uneventful space, consider hanging your art in your home office. The geometric design could work great behind your desk and offer the room some creativity and fun to help guide you through the day.

Hallway:
Hallways are great places to hang art too. 
The hallway is an area that may not be the focal point of the home, but since you pass through it many times a day the art displayed will serve as a constant reminder of your love for dachshunds.


How to Choose the Right Geometric Dachshund Wall Decor:
The first thing to think about is what shape dachshund are you going to display for your geometric piece?

The long bodies nature of dachshunds means that many designs will be side view pieces, aimed at showing off their long body.

Dachshunds are also known for sitting with their head tilted in an adorable style that all dachshund lovers instantly recognize. 

Whatever your favorite doxie pose is, you won't have any trouble finding geometric pieces of dachshund art in a variety of poses.
Material Matters: 
Geometric dachshund decor comes in a variety of materials to think about. Below are just some of the most popular types available:

Canvas Gallery Wraps: 
Dachshund art is widely available in the form of canvas prints. If you aren't sure if you are looking for a sculpture or traditional art piece, the canvas print is always a good choice.

Wall Posters: You don't have to spend a fortune to display a geometric dachshund design. Poster prints are available all over the web in a variety of sizes and shapes for any taste and style. 

Also be aware there are glossy and matte type posters available, so depending on your personal style you will want to pay attention to what you purchase.

Indoor Wall Tapestries: 
Yes, you can even find geometric dachshund drawings and art on wall tapestries. For a more relaxed and tranquil vibe consider hanging a tapestry on a large wall to draw focus to the piece.

Wall clocks: 
Dachshund wall clocks come in a ton of different types of designs, including geometric designs. Wall clocks are a subtle way to display a favorite geometric design and it serves the dual purpose of being a functional piece of decor.

Acrylic prints: 
Acrylic prints give your space a modern and sleek look. A geometric design on acrylic will give your space a modern feel while showcasing your love for lovable dachshunds.

Wall calendars:
If you don't want to display a traditional piece of canvas or acrylic art, there's always a dachshund themed wall calendar. 
Perfect for the home office or kitchen, a wall calendar is a simple way to add a personal touch to a work space.


Geometric wall decor has been around for centuries. Since the beginning of time people have found that geometric shapes help make any space look modern and worldly.

If you love the idea of decorating your home with geometric shapes and you are a lover of all things dachshund, you are in luck.
There are tons of different sizes, shapes and styles of dachshund geometric wall art to suit your fancy. 
Whether your current decor is modern, old fashioned or a mix of everything under the sun, there is a piece somewhere just for you.

Don't worry about society's rules on where to place your doxie geo art either. Wherever it makes you happy is the perfect place.