Dachshund Wall Decor: How to Spruce Up Your Space with Adorable Wiener Dog Art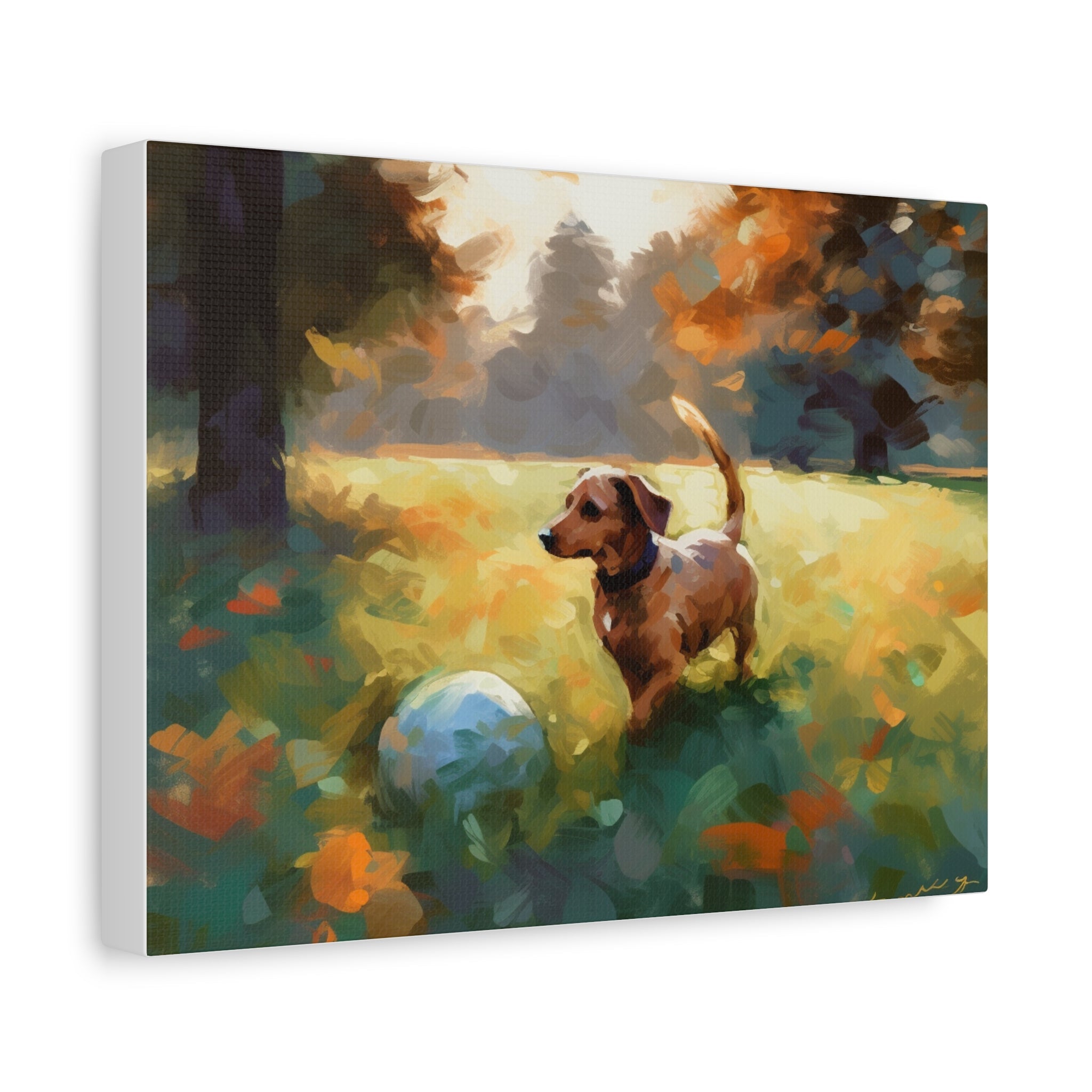 Dachshund lovers aren't like other people. Other people look at a dachshund and see a funny looking hot dog shaped creature that walks funny.
We (dachshund lovers) see a best friend that deserves the world and everything in it.
Do you like to decorate your home with dachshund themed wall decorations? 
Do you love to show off your love for all things wiener dog shaped? 
Do you like to make your living areas more fun and creative?
If so then keep reading about all of the different ways that you can decorate your walls with dachshund themed art and decor. 
Dachshund wall decor is about more than hanging a picture. 
There are endless ways to express your creativity and love for the dachshund.
Why Choose Dachshund Wall Decor
Why not choose dachshund wall decor is the better question. 
Decorating your home with dachshund wall decor adds a dash of fun and a touch of whimsy to any space. 
It's not just about decorating your walls. It's about creating an atmosphere that reflects your passion and love for these adorable wieners.
Adding dachshund wall decor to your home shows your guests that you are playful and carefree and will serve as a conversation starter. 
Your guests may enter your home not being huge dachshund fans, but they will definitely leave as one.
Pawsome Dachshund Wall Decor Ideas
When it comes to dachshund wall decor ideas for your home, the possibilities are almost endless. 
No matter what your tastes and style are, you can find something to hang up on your wall to express your love for adorable dachshunds.
Some great examples of dachshund wall decorations you could use to make your home more fun are:
Gallery canvas wraps
Posters
Uncoated posters
Silk posters
Photo art paper posters
Wall tapestries
Matte stretched canvas
Pennant
Satin canvas
Acrylic prints
French cleat triptych prints (3 panel)
Metal personalized monogram signs
Wall calendar
Wall decals
Aluminum composite panels
Foam board prints
And the list goes on. 
As you can see, there is no shortage of types of wall decor you can hang on your walls that you can find with a dachshund inspired theme. 
If you can imagine it, it likely exists for your dachshund home decor ideas.
Finding the Perfect Spot for your dachshund decor
Now that you have a million ideas for dachshund themed wall decor, where are you going to put it? 
You want to be able to see it and you want your guests to see it so it needs to be visible and out in the open.
Here are some things to consider when trying to decide where to hang your doxie wall decorations:
Think about the focal point: 
You can display your dachshund art on an empty wall above the couch or main wall in the room. 
You want to display your doxie decor in a place where the eyes naturally look when walking through your house or sitting in a living area.
Scale and proportion: 
If your dachshund decorative piece is large then you will want to place it on a wall that is otherwise empty or near empty to draw attention to it. 
If the decoration is smaller it could work well in a corner of the room next to other similar decor items.
Eye level: 
It's best to keep decorative items at eye level so you and your guests don't have to strain your neck to enjoy the decorations. 
Think about the average eye level of you and your guests in a sitting and standing position and place the artwork in a way that is easy to see for all.
Create a statement wall: 
Normal people have accent walls in their home that are painted a different color than the rest of the walls.
If you really want to make a bold statement with your dachshund inspired art you could make a statement wall out of nothing but dachshund decor. 
A dachshund wall clock and tapestry, along with some posters or canvas prints could be a fun way to dedicate a whole area of your living area to nothing but dachshund love.
Random unexpected areas: 
You don't always have to display your dachshund wall decor in obvious places like a major wall. 
You can also display pieces above a door or in the bathroom for a bit of fun to an otherwise boring area.
Decorating with dachshund art and decor should be fun and relaxing, not full of stress and hard decisions. 
At the end of the day, anywhere you place your doxie decor will be a good place.
Decorating with dachshund wall decor is a fun and expressive way to showcase your love for all things related to dachshund pups.
Whether you are a dedicated dachshund parent or just an admirer of these wonderful companions, some well placed dachshund themed wall decorations are a great way to add life and fun to your home.
So, wag those tails, sniff out your favorite dachshund wall decor pieces, and let your love for dachshunds shine through in every nook and cranny of your home!