Dachshund Home Decor: Unleash Your Love for Wiener Dogs in Style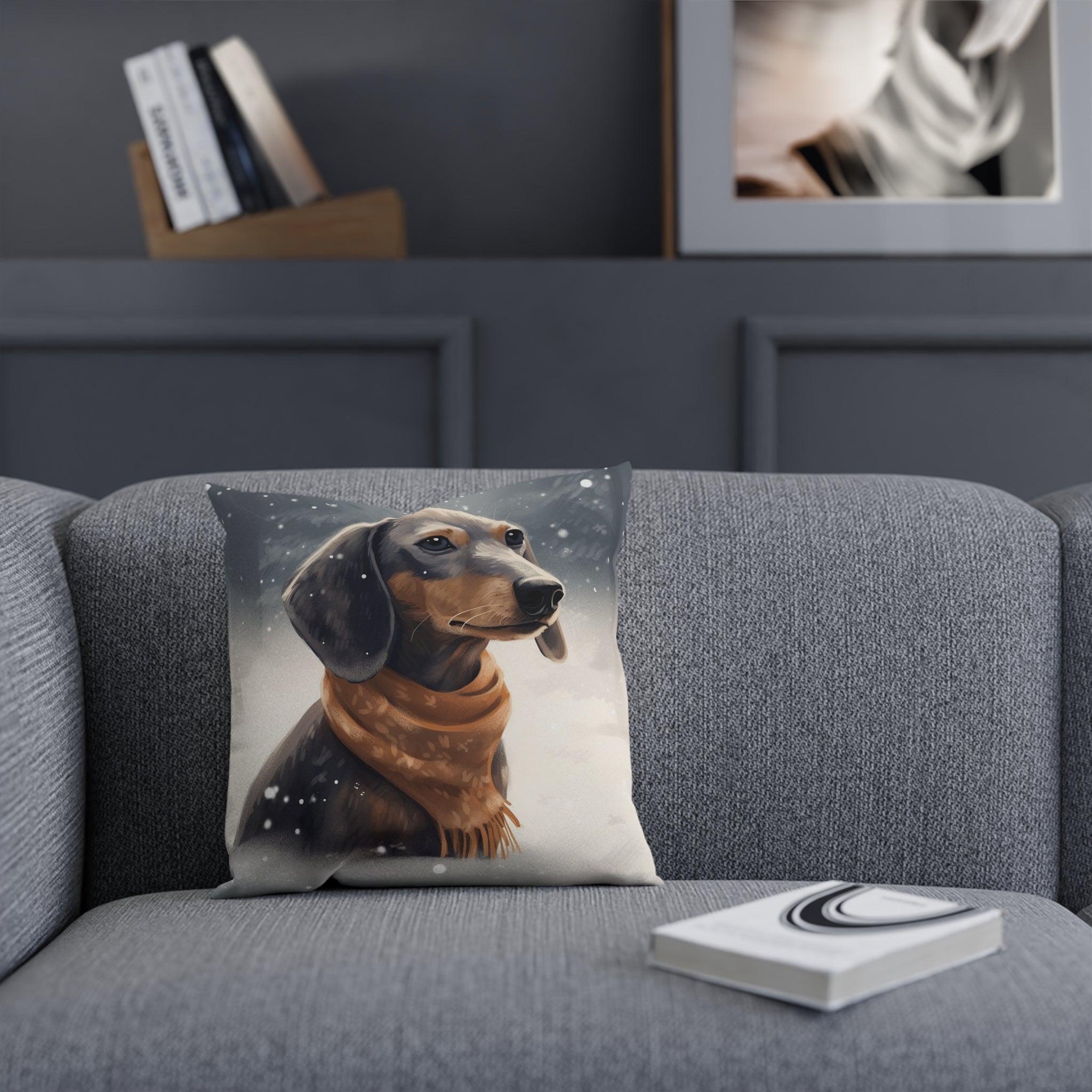 Dachshunds are more popular than ever in 2023. People are downsizing and are looking for a best friend that is small and compact and easy to love.
Dachshunds are the perfect pet for people who are looking for a best friend that is loyal, lovable and easy to take care of.
So it's not a shocker that people are also decorating their homes with dachshund home decor items to spruce up their living space. 
And for people who can't have a dachshund as a pet due to personal circumstances, the next best thing is to fill the home with fun dachshund inspired decorations
From Pillows to Art: How Dachshund Home Decor Can Add Personality and Charm to Your Space
Creating a comfortable and fun living space is necessary for good mental health for many people. 
Colorful decorations and home decor items can improve your mood, make you feel relaxed and can give you a sense of pride in showcasing your personality and good taste.
Decorating your home with dachshund decorations is a great way to show off your love for all things related to wiener dogs.
The problem isn't what kinds of dachshund decorative items are available for your home. 
The real problem you might find yourself having is which types of dachshund decorations should you pick to decorate your home.
Show Your Love for Dachshunds: Decorate Your Walls with Cute Dachshund Wall Decor Art Ideas
Dachshund Art Prints:
Need to brighten up your walls or add some personality to a boring room? A dachshund themed art print is an easy way to add some life to plain walls.
Dachshund art prints come in every size, style and color you can imagine to suit your own personal style.
Dachshund Posters:
You may not be able to put holes in your wall to hand a print or other type of dachshund art. 
That doesn't mean you can't decorate your home with stunning doxie decor items though.
A dachshund poster is an easy way to hang up your favorite dachshund art without having to drill holes in your wall to hang a canvas.
Posters can be hung with very small hanging hardware like push pins or even special tape that is made just for hanging posters on walls.
Dachshund Wall Clocks:
Of all the different types of dachshund decor you can decorate your home with, dachshund wall clocks are one of our favorites. 
We all have our phones in our hands constantly and don't really need a traditional wall clock in a modern world for the purpose of telling time. 
But this isn't just a piece to tell time with.
A dachshund wall clock can transform any room into a comfortable, friendly zone where you can relax and express your personality in a simple way.
Wall clocks can make any room look nice and finished for sure. A wall clock with dachshund inspired art can turn a boring room into home.
Dachshund Decorative Items
Dachshund decor isn't just for your walls. If you want to decorate your home with dachshund themed items there are endless possibilities you can choose from.
The only limits you have is your imagination, personal style and what you want to express to others that come into your home.
Dachshund Figurines:
Dachshund figurines are a simple way to add life to your home with sausage dog appeal. 
Some creative ways that you could use a dachshund figurines to make your home more interesting are:
Dachshund figurine shelf display: 
You could add different styles of figurines to a decorative shelf in your home to display all of the different colors and sizes that dachshunds come in in real life. 
Figurines come in different sizes, styles, colors and even long or short haired doxie styles.
Table centerpiece: 
Make a dachshund the focal point for your dining room table with any number of dachshund themed ideas. 
You could add a dachshund themed candle, paper towel dispenser, figurine or anything else you can think of.
You could also use dachshund bookends to spruce up a coffee table or library area in your home. 
The possibilities for a table centerpiece are only limited by your own imagination.
Bookends: 
Dachshund bookends are a super fun and simple way to make any room look great. Dachshund bookends are a great conversation starter for anyone that loves to read a lot. 
Window sill decor: 
You could add various dachshund figurines to your window sill for decorations. 
If you have a window that looks out onto the street this is a great way to show off your personality to passers by.
Garden or patio decor: 
When it comes to decorating your home, we feel like the tranquility of a backyard or garden is the perfect spot to decorate with some dachshund themed figurines. 
Garden flags or wooden signs are one easy way to mark your backyard territory and let guests know that you are a dachshund home. 
Garden flags are fairly inexpensive but look great in a lush outdoor setting.
Dachshund Home Accessories
You really wouldn't believe all the dachshund home accessories that are available for us doxie lovers. 
There are almost an endless variety of decorations, figurines and art that you can buy for your home that express your dachshund love.
Some creative and fun ways you can use dachshunds to express your personal tastes in your home are:
---
Pillows: 
Dachshund themed pillows add a fun touch to any living area in your home. You can find couch pillows, satin pillows and even sequined pillows with dachshund art on them. 
Look for dachshund patterns, art pieces and even pillows that are wiener dog shaped themselves. If you love to decorate with pillows and you love dachshunds there is no shortage of ideas you can find.
Blankets: 
The sheer number of dachshund blankets you can buy to decorate your home with is exhausting. Just to name a few, you can find:
Fleece sherpa blankets

Plush blankets

Minky blankets

Baby swaddle blankets

Duvet covers

Snuggle blankets

Hooded blankets

Picnic blankets
You will never have to worry about being warm again with the number of different types of dachshund blankets that are available to buy for your home decor.
Rugs: 
You won't have any trouble finding a wide variety of dachshund themed rugs for your home decorations either. 
Whatever your needs are for a rug, there is something you can get with dachshund inspired art on it.
Some of the most popular types of dachshund rugs you can find are:
Area rugs

Round rugs

Outdoor rugs

Floor mats

Front door mats

Bathroom mats
Dachshund Room Decor: Bringing the Playful Spirit of Wiener Dogs Into Your Space
Are you looking to add a piece of dachshund decor to a room to spruce it up, or do you want to go doxie-wild with decorations? 
No matter what your goals are, there are some simple rules you can follow to decorate any room with dachshund decor in a tasteful, fun and creative way without going overboard (but who cares if you do want to go overboard!)
Choose a Color Palette: 
Dachshunds come in a variety of colors but as a general rule they come in earth tones, with accents of red, black, or white to add some visual interest to the room.
When choosing accompanying decorations and furniture for your dachshund themed room, pick earthy tones like browns, tans, and neutrals to reflect the dachshund's coat colors.
Bedding: 
If your dachshund themed room has a bed, you can't go wrong with dachshund pillows, duvet cover and blankets to complete the look. It doesn't have to be crazy dachshund patterns all colliding all over everything either.
There are subtle ways you can decorate your room with dachshund inspired goodies that will look classy, fun and relaxing.
Consider a duvet cover with a bright and cheerful dachshund print and some matching pillow cases.
Wall decor: 
When it comes to wall decor in the spirit of dachshund, your choices are almost endless. 
If you are looking to spice up your walls with some doxie themed wall art you may like any of the following:
Canvas gallery wraps

Stretched canvas with dachshund art

Satin posters

Indoor wall tapestries

Wall clocks

Pennant

Matte posters

Acrylic prints

Framed paper posters

Metal art signs

Wall calendar

Wall art panels

Framed and unframed posters

Wall decals
And that's just a sampling of what's available. 
There are so many types of art and decorations you can buy to add life and personality to your walls it's unreal. 
Add some dachshund art to them and you have a dachshund inspired room that's fit for the most hardcore doxie lover.
Dachshund Nursery Decor
Need to decorate baby's room with fun dachshund items? All of the dachshund decor we've talked about up till now will work great in your nursery. 
Some specific ideas that you could use to decorate your nursery with dachshund-themed decorations could be:
Baby swaddle blanket

Fleece baby blanket

Baby changing pad cover

Wall decals

Wall art

Wall clock
Your baby would love some cute and cuddly dachshund art to look at, and with all the available options for items you can decorate with you shouldn't have any issues finding the perfect piece for your baby's nursery.
Dachshund Outdoor Decor
There's nothing like relaxing in your garden or patio in the summer, right? 
Well, why not make your outdoor area even better with some cool dachshund decorations to give the patio or garden area some extra life.
There are quite a lot of different types of dachshund outdoor garden area decor you can choose from. Some ideas you could use are:
Dachshund garden statues

Dachshund wind chimes

Dachshund garden flags

Garden banner
Dachshund outdoor garden ideas:
If you just want to make your outdoor area look more interesting you can just throw up some dachshund garden flags and call it a day.
If you really want to go wild with dachshunds though, here are a few advanced ideas you could use to really take your dachshund garden to the next level.
Dachshund pathway: 
You could line a pathway with dachshund figurines or garden stones to create a path of dachshunds guiding the visitor to another area of the garden.
Dachshund planter: Did you even know they make dachshund planter boxes? They do, and you could use a few of them to display some of your favorite garden flowers. 
Why settle for a plain old box when you can showcase your best plants and flowers with a dachshund planter box.
Dachshund Kitchen Decor
Of all the areas in your home where you can showcase your creativity and personal style, the kitchen is one with the most options.
There are simply endless possibilities of dachshund related art and decor you can use to make any kitchen a lot more fun.
Some examples of dachshund-themed items you can find to make your kitchen more fun are:
Coffee mugs

Drink tumblers

Chef's apron

Wine tumbler

Table runners

Napkins

Pint glass

Glass cutting board

Wooden cutting board

Latte mug

Cork drink coaster

Soft tea towel

Kitchen towel

Color changing mugs

Placemats

Pot holder

Tablecloth

Shot glasses

Bottle openers

Oven glove

Heart shaped mug

Refrigerator magnets

Serving tray

Ice bucket with tongs

Bar glass
This is not a full list, but you get the idea. There are just so many types of products that are available with dachshund art and images you can use to make your kitchen look more fun. 
You can add one or two subtle items if you want or you can go doxie wild and stuff the kitchen full of all kinds of dachshund themed decor.
Dachshund lovers like to show off our love for all things wiener dog. Lucky for us there are endless products that we can buy to decorate the inside and outside of our homes with all things dachshund.
From the kitchen to the baby nursery to the outdoor garden and every room in between, there is a dachshund themed way to make your home more fun, inviting and dachshund friendly.
Have you seen any dachshund decorations not listed here? Let us know your favorite doxie themed decorations if you have.