Deck the Halls with Dachshund Christmas Decor: A Festive Guide for Wiener Dog Lovers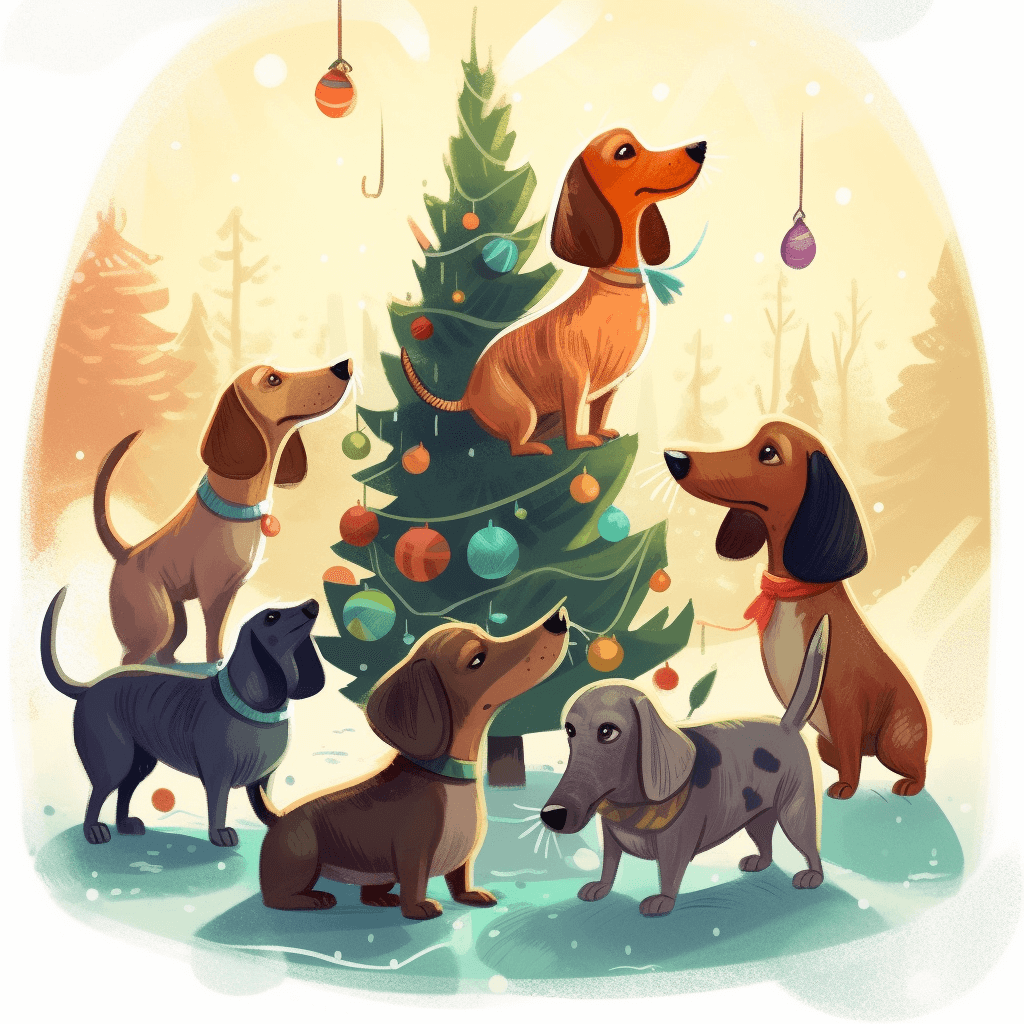 When it comes to Christmas spirit, dachshunds are definitely 'sleighing' it don't you think?!
If you love dachshund and the Christmas holiday, chances are it will make you feel warm and fuzzy to decorate your home with some cute dachshund inspired christmas decorations.
In this post we'll talk about some dachshund Christmas decorations that you can use to make your home a winter wonderland filled with joy and fun.
Dashing Dachshund Ornaments: Pawsitively Adorable!
Who wants a plain old ornament when you can hang a little wiener dog on your tree?
Dachshund-themed ornaments bring a whole new level of cuteness and fun to your holiday decorations.They capture the spirit of our beloved wiener dogs and make your tree feel extra special. 
You can find dachshund Christmas ornaments in a lot of different sizes and shapes. 
From traditional round ornaments to dachshund shaped ornaments, there's something for every tree and personal taste.
Some of the most popular ornaments come in the following shapes:
Ceramic ornaments
Metal ornaments
Glass ornaments
Pewter snowflake ornaments
Wooden ornaments (available in a variety of shapes)
Christmas ball ornaments
Dachshund shaped ornaments
There's a shape of ornament to fit any taste and style you can imagine. 
If you like your Christmas decorations to be fun then a dachshund inspired ornament is the way to go to spice up your Christmas tree
How Many Dachshund Ornaments is Enough?
Decorating your Christmas tree with dachshund themed ornaments can be whatever you want it to be. 
You can decorate your tree with as many or as little ornaments as you'd like. 

Here are some simple tips for making sure your tree will look great if you plan on adding some wiener dog ornaments to your decorations.
Placement and Balance: 
When hanging your dachshund ornaments, space them out evenly throughout your tree. This helps create a balanced look. 
Avoid clustering them all in one area to keep the tree from looking too busy.
Mix and Match: 
Don't be afraid to mix different types of dachshund ornaments along with your other ornaments. 
Combine them with traditional Christmas ornaments, lights, and ribbons to create a fun and creative blend. 
The dachshund ornaments will add a touch of whimsy and personalization to your tree.
Create a Theme: 
If you're a die-hard dachshund lover, try creating a themed tree dedicated to dachshund ornaments only. 
Combine different dachshund designs, colors, and materials for a fun and eye-catching display. 
Add complementary dachshund-themed tree toppers, garlands, and tree skirts to complete the look if you are a doxie maniac.
Personalize with Photos: 
To add a sentimental touch, consider some personalized ornaments with your dachshund's picture on them. 
Dachshund art is great, but your own dachshund on the tree is what makes the look special. 
Wrapping Up in Wiener Dogs: Dachshund-Inspired Gift Wrapping Ideas
Who says gifts can't have a dash of dachshund charm? 
If you really want to wow your loved ones, consider using dachshund themed wrapping paper or dachshund gift wrap.
You can use dachshund pattern themed wrapping paper or for a more personal touch you can find custom wrapping paper with your dachshund's picture tiled on it.
What better way to make someone's day than with adorable dachshund gift wrapping.
Wiener Wonderland: Dachshund-Inspired Home Decor
Turning your home into a wiener wonderland is easy and fun. 
There are so many different types of dachshund decor that are Christmas themed available for every type of personality and design taste.
When you're thinking about how you want to decorate your home with dachshund inspired decorations, here's a short list of possibilities you can think of:
Festive Dachshund Throw Pillows: 
Spice up your living area with dachshund-themed throw pillows. Look for cushions featuring adorable dachshund prints, Santa hat-wearing wiener dogs, or festive holiday scenes with dachshunds.
These pillows will add a touch of dachshund charm and cozy comfort to your seating areas.
Cozy Dachshund Blankets and Throws: Wrap yourself up in dachshund love by with some cozy blankets and throws with dachshund designs into your home decor. 
Whether it's a soft fleece blanket featuring a dachshund holiday pattern or a dachshund silhouette, these fun and cute blankets will keep you warm while adding a playful touch to your wiener-dog friendly home.
Dachshund-Themed Rugs and Doormats: 
Welcome friends and family with a bit of dachshund spirit by placing dachshund-themed rugs or doormats near your entryway. 
Look for mats with paw prints, dachshund silhouettes, or fun holiday greetings featuring dachshund christmas cheer.
Rugs and doormats are a great way to add a festive touch to your home's entrance.
Wall Art and Posters:
Give your walls a dose of dachshund charm with dachshund-themed wall art and posters with a Christmas holiday vibe to them. 
Look out for prints with dachshunds dressed up in Santa hats, holiday-themed scenes with dachshunds, or witty dachshund quotes. 
Table Settings with Dachshund Decor: Another idea is you can set your dining table with dachshund-inspired tablecloths, placemats, napkins and other dachshund inspired kitchen decor to create a festive doxie-dining experience for you and your guests. 
Look for patterns featuring dachshund silhouettes, paw prints, or holiday-themed dachshund designs to give your holiday decorations a dose of fun.
Dachshund Christmas Stockings: 
Don't forget to include dachshund-themed stockings as part of your holiday decor. 
You can hang personalized dachshund stockings for each member of the family, complete with adorable dachshund designs, their names, or even images of their dachshunds on them.
Decorating your home with Christmas themed decor is a great way to add some holiday spirit to your life. 
There are a million different ways you can decorate your home with dachshund inspired goodies for the holidays. How you decorate is totally up to you and your own personality.
If you really want to make your home a dachshund oasis complete with all the decorations you won't have any trouble finding different decor items to display, that's for sure.
Whether you decorate in a subtle way with a few ornaments or whether you go doxie-wild with art, ornaments, table decorations, dishes, mugs and more just depends on your level of doxie appreciation.
At the end of the day…have fun and decorate in whatever way makes you happy. If that means lots of dachshunds or just a few, it will make you feel good either way.