Deck the Halls with Dachshund Delight: A Guide to Dachshund Christmas Ornaments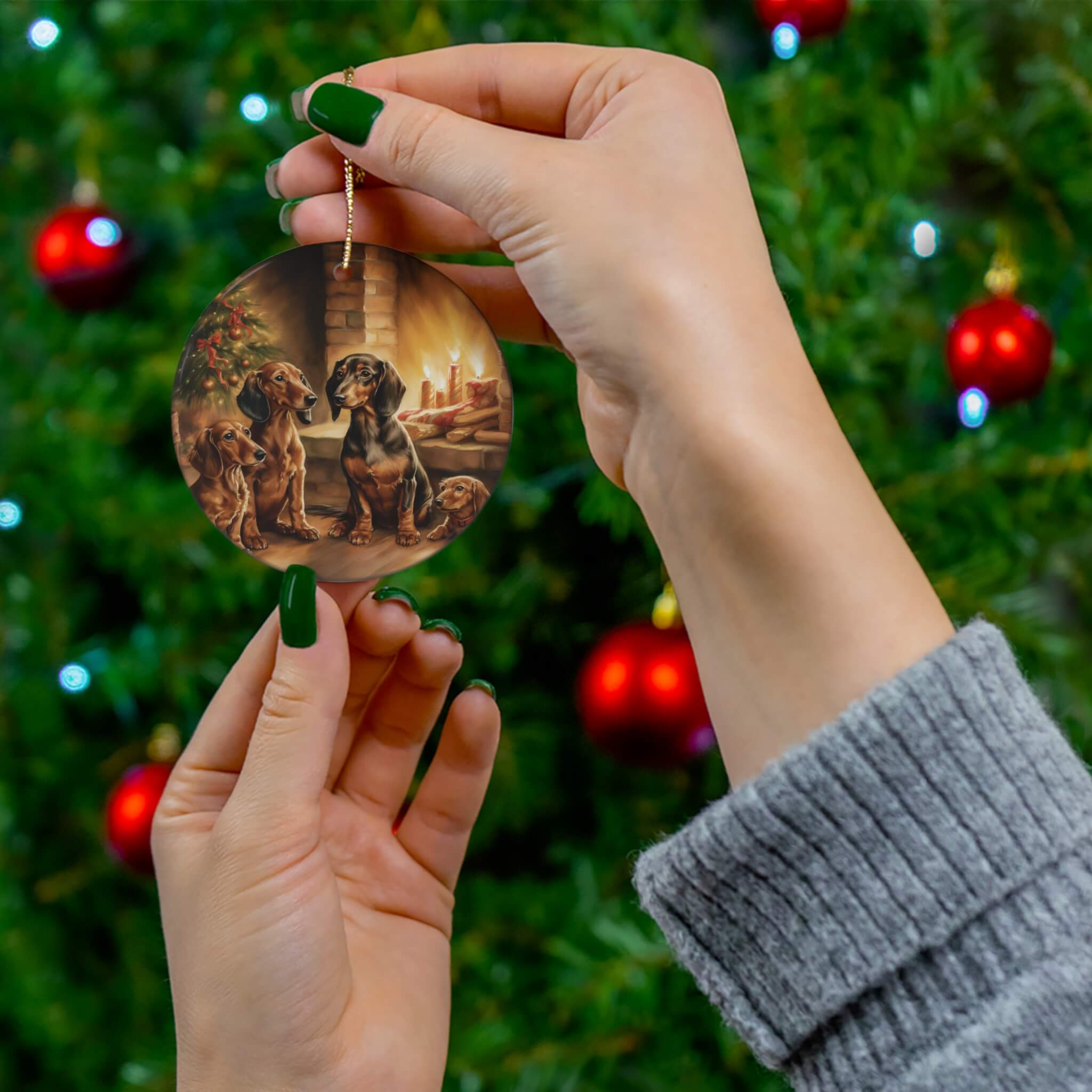 For many of us, the holiday season is a time to get together with friends and family and think about the positive things life has to offer.

Dachshunds are one of the most pawsitive things you can find in this world.

So when it comes to decorating your home for the Christmas season, why not add a touch of dachshunds to your decor with some fun and carefree dachshund Christmas decorations?
Dachshund Christmas ornaments are an easy and fun way to celebrate your love for dachshunds while keeping with the spirit of the holidays


Why Dachshund Christmas Ornaments are Paw-some
When you can express your love for something that makes you happy it makes you feel great doesn't it? 
Dachshund lovers really like to show off their dachshund art and decorations because it helps spread the word about what wonderful little creatures dachshund are.

They also serve as great conversation starters. So if you often have guests in your home and you're thinking about displaying some dachshund christmas ornaments you may be blown away by the positive response you'll get.

So let's take a look at some of the different types of dachshund Christmas ornaments that are available for you to buy and display in your holiday decor this year.


Exploring the Variety of Dachshund Christmas Ornaments
Traditional dachshund ornaments: 
The most common type of dachshund ornaments are traditional type ornaments that have dachshund design themes printed on them.

This could be a dachshund in a Santa hat in a snowy Christmas setting, or a dachshund resting in front of the fireplace. 
The themes available to you are pretty much endless, so finding the perfect ornament should not be any problem.

Traditional ornaments come in a few different materials, with the most popular being metal and ceramic style hanging ornaments. 

Personalized dachshund ornaments: 
A twist on the traditional ornament is a personalized ornament. A personalized ornament would have your own dachshund's picture or cartoon-style likeness printed on it. 
Usually these types of personalized ornaments will also feature your dachshund's name for a truly personalized experience.

Many dachshund lovers prefer to personalize their ornaments when that option is available. 
It's more of a personal touch to your Christmas decorations as opposed to a generic holiday ornament with a dachshund scene.

DIY dachshund ornaments: 
If you are a crafty person there is also the option of making a DIY dachshund ornament. 
The internet is littered with DIY templates for dachshund ornaments made from felt or just about any other type of material you could think of.

An advantage to DIY ornaments is that you have total control over the look and feel of them. For the dachshund lover that has crafting skills this may be the most enjoyable way to celebrate the holidays with a dachshund theme in your decor.
One main disadvantage of DIY dachshund ornaments is simply that if you aren't an artist or crafty person then there is a learning curve to getting started.
If you consider yourself to be crafty here is a template we found that looks fairly easy and will result in a cute and fun doxie themed tree ornament.
Where to Find Dachshund Christmas Ornaments
Finding dachshund themed Christmas ornaments is not very hard to do. If you are shopping online for ornaments there are tons of stores (such as ours) that offer a variety of dachshund ornaments for sale.
Finding them in a local retail store might be a big harder, but that really depends on where you live. Large stores like Walmart carry a lot of christmas ornaments over the holidays for sure.

And with dachshunds being so popular there's always a chance you will be able to find them at one of these stores.

You might also try a local brick and mortar pet store in your area. Sometimes local pet stores will partner with local crafting experts that will supply the store with handmade dog themed decorations.

If you aren't sure where you are going to find your dachshund ornaments you can click here to check our collection to see if anything you see matches your personal style or not. 
Christmas decorations can be anything you want them to be. 

If you normally decorate your home with more traditional decorations and ornaments you may be looking for some inspiration to try something new this year.

Why not add some dachshund love to your holiday decor?

Dachshund Christmas ornaments are a fun and easy way to add some spice to your decor in a way that lets you appreciate them and will have your guests asking where you got such cute ornaments.
Whether you choose DIY ornaments or ones with a personalized touch, if the design features a dachshund on it then you can't go wrong.