Decking Out Your Dachshund Den: Awesome Accessories for Wiener Dog Lovers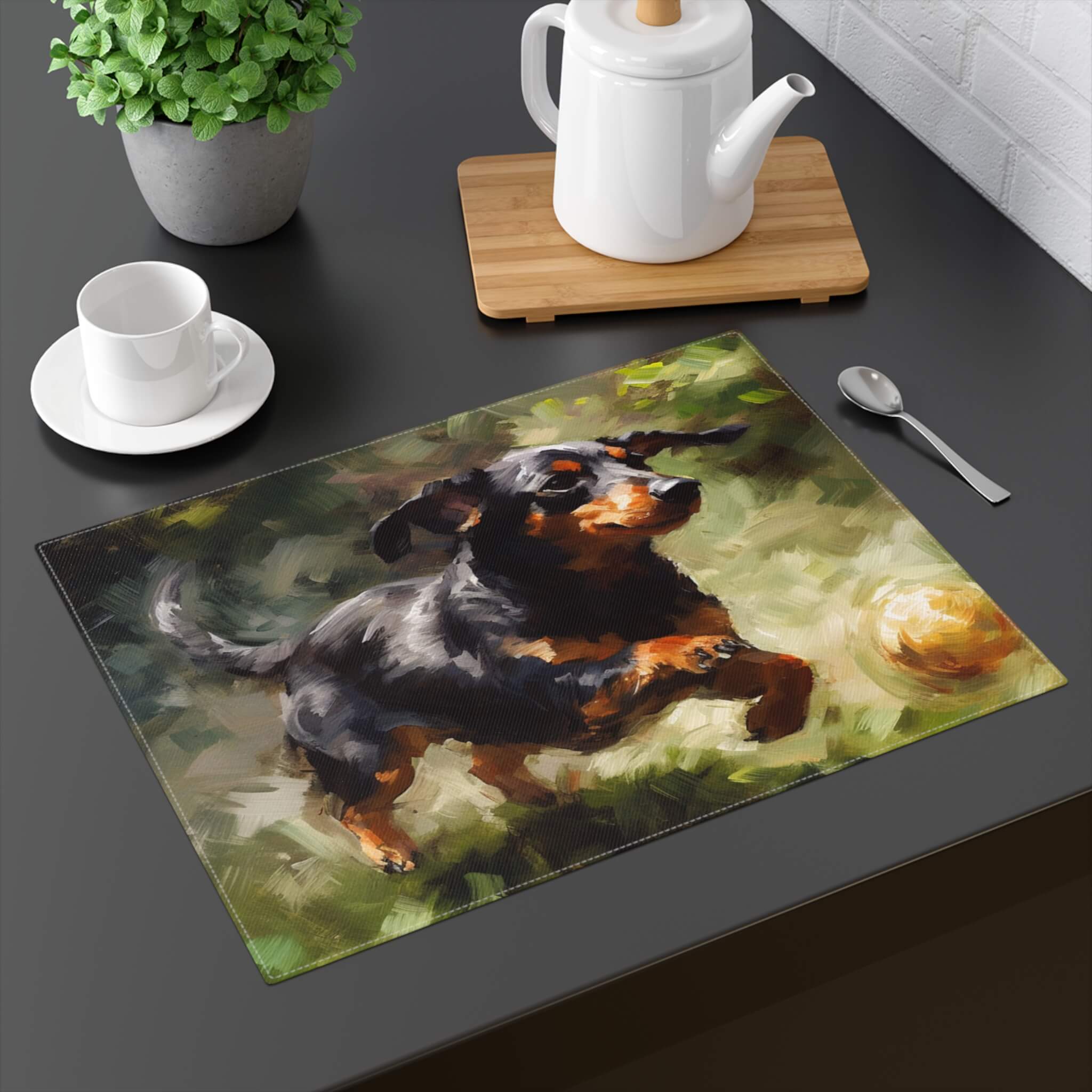 Are you a proud dachshund parent or simply a wiener dog enthusiast? If you are thinking you need some dachshund home decor, you've come to the right place.
So let's dive into the fun and happy world of dachshund-themed home accessories that will add personality and charm to your home. From cute cushions to quirky kitchenware, you won't believe what's available.
Comfy and Stylish Dachshund-Inspired Cushions: Plop, Snuggle, Repeat
Spice up your living room with adorable dachshund cushions that bring a touch of canine cuteness to your couch or armchair. 
Imagine coming home to a living room adorned with these charming cushions, their whimsical dachshund designs bringing a smile to your face. 
As you sink into your couch or armchair, you can't help but feel a sense of warmth and comfort, enhanced by the presence of these furry friends. 
With their soft materials and irresistible cuteness, dachshund cushions not only add style to your living room but also create an inviting and cozy environment where you can relax and unwind. 
So go ahead, embrace the dachshund charm and let these cushions become the centerpiece of your living space.
Where can you find a wide variety of dachshund-themed cushions to suit your personal style?
With dachshunds being more popular than ever you should have no problem finding dachshund home decor to suit your needs.
Online Marketplaces:
One of the most convenient ways to explore a wide range of dachshund-themed cushions is through online marketplaces.
Websites like Amazon, Etsy, and eBay offer an extensive selection of cushions with dachshund designs.
You can also check out our collection of dachshund home decor items here.
Specialty Pet Stores:
Don't forget to check out specialty pet stores or boutiques in your area that focus on pet-related products. They often carry a selection of dachshund-themed cushions that cater specifically to dog lovers. 
Local Artisans and Craft Fairs:
If you prefer one-of-a-kind pieces and supporting local artists, keep an eye out for artisan markets, craft fairs, or local art galleries. 
These fairs may sometimes showcase handmade cushions with dachshund designs created by talented artists and crafters if you are lucky
.
Woof-Worthy Kitchen Accessories: Dachshund Delights in the Heart of Your Home
If you spend a lot of time in the kitchen cooking or entertaining, you might love some dachshund kitchen accessories and decorations.
Nothing makes a space more relaxing than wiener dogs.
Some of the more popular dachshund themed kitchen accessories are:
Chef's apron
Personalized napkins
Table runner
Tablecloth
Cutting board
Drink coasters
Tea towels
Placemats
Pot holder
Oven mitt
Salt & pepper shakers
You can go as big or as small as your personal taste allows. If you want to go wild and decorate with a lot of different accessories, you can create a real dachshund oasis right in your kitchen.
If you have another theme already, maybe a simple accessory like salt and pepper shakers shaped like dachshunds is all you need to add some cuteness to your cooking space.
Wall Art with a Wag: Dachshund Décor to Make Your Walls Happy
Don't forget your walls. There are tons of dachshund themed accessories that you can use to give your walls some life.
Some popular dachshund themed wall decor items are:
Wall tapestries
Acrylic prints
Canvas prints
Framed posters
How can dachshund wall art inject personality into your home?
Dachshund wall art has a magical way of filling your living space with a burst of personality and charm.
Whether it's a vibrant dachshund painting or a whimsical dachshund print, each artwork tells a story and creates a focal point that sparks conversation amongst your friends and family.
The unique and playful nature of dachshund wall art adds a sense of joy and lightheartedness to your home, transforming it into a haven that reflects your personal style. 
So, let your walls come alive with dachshund wall art and let your home radiate with the irresistible charm of these lovable wiener dogs.
Pawsome Dachshund Puzzles and Games: Fun for the Whole Family
Looking for some interactive dachshund accessories? Try a dachshund themed jigsaw puzzle.
Puzzles come in all sorts of sizes for any skill level and can be bought with a wide range of dachshund related scenes.
Personalized Dachshund Puzzles:
You can even have jigsaw puzzles made with your own dachshund on them. 
What fun it will be to sit and put together a puzzle with your best little dachshund friend as the centerpiece of the fun.
When the puzzle's done, glue it all together and hang it on the wall for some personalized dachshund wall art that will surely be a conversation starter.
There are tons of different ways you can decorate your home with dachshund themed accessories. From the kitchen to the living room and every room in between, there's dachshund art and accessories for any taste.
If you have always wanted to add some fun decorations to your existing decor and you happen to love dachshunds then you may love some of the accessories that are available these days.